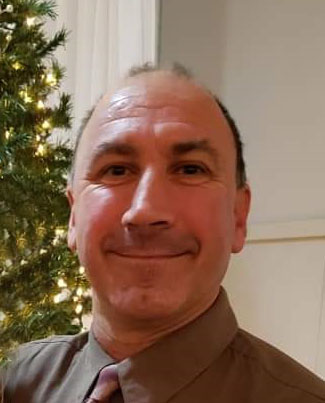 Mike E. Gebke
Visitation Dates and Times

CELEBRATION OF LIFE
Thursday, January 30, 2020 4:00-8:00 p.m.

Visitation Location

Receptions by Robin and Venue, 290 N. Main St., Breese, IL 62230
Full Obituary

Mike E. Gebke, age 50, of Germantown, passed away Saturday, January 25, 2020 at St. Louis University Hospital.

He was born December 29, 1969 in Breese, a son of Joan, nee Schmitt, Gebke and the late Arthur "Art" Gebke.

In addition to his father, he was preceded in death by grandparents, Conrad and Margaret, nee Loeffler, Schmitt and John and Mary, nee Mueller, Gebke; and several aunts and uncles.

Surviving are his mother, Joan Gebke of Germantown; siblings, Chris (Jessica Lowe) Gebke of Carlyle, Sharon (Gregg) Williams of Belleville, and Stephen (Becky) Gebke of Greenville; nieces and nephews, Emily and Hunter Gebke, Clarissa (Tyler) Wilkinson, Mikaela Fischer, Lilly and Phillip Flynn, Zachary and Abby Gebke; aunts and uncles, Rosemary Bulus of St. Louis, Robert (Mary) Schmitt of Maryland Heights, MO, Joe (Becky) Schmitt of Trenton, and Betty Gebke of Bartelso; close friends, Robin and Bob Fix and family of Breese; and numerous cousins and friends.

Mike graduated from Central Community High School and formerly worked at the Breese Avon Drive-In, Little Augie's in Breese, and Gebke Bros. in Carlyle. For the past 17 years, Mike worked at Outback Video and Receptions by Robin in Breese, and recently was employed as a bartender/cook at Bartelso Bowling Alley.  Mike also helped Wintermann Auction Service in Carlyle and drove many buses for sports teams and party buses for anyone that asked, but his most favorite was driving for the Black Friday ladies shopping day.

Mike was a board member of the Greater Carlyle Bowling Association and the secretary for the Monday, Wednesday, and Friday nights Bartelso Bowl men's leagues. In addition to serving these positions, Mike also bowled Monday, Wednesday, Thursday, and Friday nights in Bartelso as a part of the Bartelso Knights of Columbus, First National Bank, K& J Chevrolet, and Koetting Insurance bowling teams.  Besides bowling, Mike enjoyed scratch off lottery tickets, playing bingo, and spending time with family and friends.  Mike's HEART WAS BIGGEST OF ALL, always there to lend a helping hand and supporting any charity or fundraiser he could.  He knew no stranger, and his smile and love for life will be missed by all who knew him.

A celebration of life in honor of Mike will be Thursday, January 30, 2020 from 4:00-8:00 p.m. at Receptions by Robin and Venue, 290 N. Main St., Breese, IL 62230.  As a tribute, even though Mike wore pants to only weddings and funerals, shorts are the preferred attire.

In lieu of flowers, plants, and other gifts, memorials may be made to the wishes of the family (please make checks payable to Sharon Williams) and will be received at Receptions by Robin and Venue or through Moss Funeral Home in Breese who is serving the family.