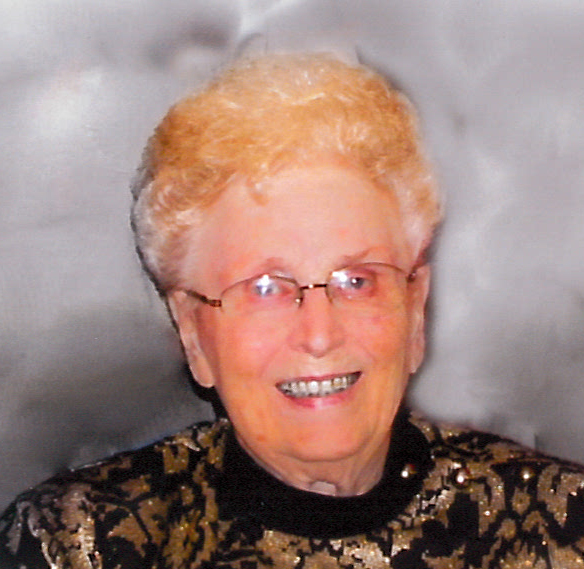 Mildred F. "Millie" Holtmann
Visitation Dates and Times

Tuesday, December 9, 2014 9:00-10:45 a.m.

Visitation Location

St. Boniface Church, Germantown
Service Date

Tuesday, December 9, 2014

Service Time

11:00 a.m.

Service Location

St. Boniface Church, Germantown
Full Obituary

Mildred F. "Millie" Holtmann, nee Schoendienst, 88, of Germantown, died Friday, December 5, 2014 at Countryside Manor in Aviston.

Mrs. Holtmann was born August 8, 1926 in Germantown to Herman and Christine (Robben) Schoendienst; they preceded her in death.

She married Lawrence B. Holtmann on April 24, 1946 at St. Boniface Church in Germantown; he preceded her in death on February 1, 1998.

In addition to her parents and husband, she was also preceded in death by a son-in-law, Jerry Wellen; a sister, Alice Arentsen; a brother, Herman Schoendienst, Jr.; and brothers-in-law, Joe Ebl and Richard Webb; and brothers-in-law and sisters-in-law from the Holtmann family.

Surviving are her children, Donna (Jim) Friederich of Chandler, TX, Pat Wellen of St. Rose, Elaine (Mike) Cooper of St. Louis, and Stan (Denise) Holtmann of Breese; 8 grandchildren and 14 great-grandchildren; her siblings, Evelyn (Tom) Lampe of Breese, Bernice Ebl of Florida, Dolores (Walter) Hoff of Belleville, Mary Jane (Vincent) Wobbe of Belleville, Rosemary "Jitter" Webb of Springfield, MO, Lucille (Cy) Albers of Washington, MO, and Robert (Beverly) Schoendienst of Texas; sisters-in-law Helen Schoendienst of Texas and Susie Holtmann of Germantown; and a brother-in-law, Frank Arentsen of St. Louis.

Millie worked many years as a cashier at the IGA Grocery Store in Germantown and was a member of St. Boniface Church and Altar Sodality.

A Memorial Mass will be held on Tuesday, December 9, 2014 at 11:00 a.m. at St. Boniface Church in Germantown with Fr. James Buerster and Deacon Rich Bagby officiating. Inurnment will be in St. Boniface Cemetery.

Visitation will be Tuesday, December 9, 2014 from 9:00-10:45 a.m. at St. Boniface Church in Germantown.

Memorials can be made to the donor's choice and will be received at the funeral home.