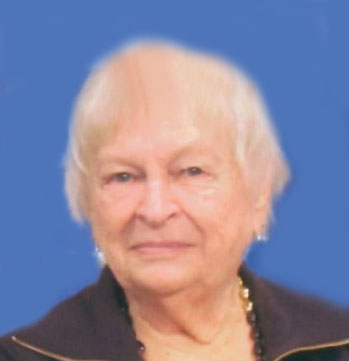 Peggy Jean (Margaret) Fitzpatrick
Service Date

Thursday October 24, 2029

Service Time

10:00 a.m.

Service Location

Moss Funeral Home, Trenton
Full Obituary

Peggy Jean (Margaret) Fitzpatrick of Trenton, Illinois died peacefully in her sleep on October 20, 2019 in her home. Born September 21, 1931 in St. Louis, Missouri, she was preceded in death by her husband, George P. Fitzpatrick, Jr., son Timmy Fitzpatrick, daughter Theresa Fitzpatrick and parents, Freddy and Nellie (Bushong) Augustine of East St. Louis, Illinois.

Peggy was a mom of 9, a homemaker, seamstress, lifelong learner and an educator at heart. At age 40 she went back to school and at age 50 she officially became an educator. She traveled with her husband to Ireland meeting up with Fitzpatrick cousins, Alaska where they rode in a hot air balloon, went white water rafting and camped in the Grand Tetons - all after retirement. Always the explorer, her tenacity and strength allowed her to travel alone to Germany and Ireland. Researching family history was a passion along with making connections with family all over the world.

Survivors include her seven adult children, Michael Fitzpatrick of Hamel, Dennis Fitzpatrick of Fairview Heights, Patricia Swank of New Baden, Mary Maureen Monaghan of Sugar Grove, Marty Fitzpatrick of Rushville, Carole Corley of Trenton, and Kevin Fitzpatrick of Newbury Park, California. Grandsons Sean and Kyle Corley of Illinois were the light of her life and gave her joy and comfort throughout her life.

Funeral services will be held Thursday, October 24, 2019 at 10 a.m. at Moss Funeral Home in Trenton, Illinois. A private burial will be immediately following the service. Peggy Jean requested a song played at her funeral service. "There she was just a walkin' down the street singin' do-wa-diddy-diddy-dum-diddy-do."

The family wishes to thank those who have supported Peggy over the years. Memorial donations may be made out to Catholic Charities or Catholic Urban Programs out of East St. Louis.