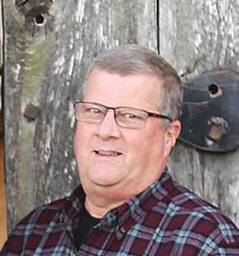 Ralph Raymond Drees
Visitation Dates and Times

Friday, October 12, 2018 9:00-11:00 a.m.

Visitation Location

Moss Funeral Home, Trenton
Service Date

Friday, October 12, 2018

Service Time

11:00 a.m.

Service Location

Moss Funeral Home, Trenton
Full Obituary

Ralph Raymond Drees, age 58, of Trenton, died Monday, October 8, 2018 at his residence.

He was born December 17, 1959 in Highland, a son of the late Joseph and Evelyn, nee Usselman, Drees.

In addition to his parents, he was preceded in death by a nephew, Eric Drees; and a brother-in-law, Kerry McCallister.

Surviving are his wife Terri, nee Cooper, Drees of Trenton, whom he married June 19, 1991; children, George (Jamie) Timmermann of Mascoutah, Jami (friend Travis Blumhorst) Drees of Lebanon, Joseph Drees of Trenton, Rachel, and Christina; grandchildren, Bryce and Kaden Timmermann; siblings, Jeanette McCallister of Trenton, Dennis (Rita) Drees of Breese, David Drees of Trenton, Susan (Mike) Macke of Breese, Charles Drees of Breese, Joyce Drees of Trenton, Janice Drees of Trenton, Carol Boothby of Trenton, and Sharon (David) Thornton of Trenton; father-in-law and mother-in-law, Rev. Bill and Carolyn, nee Wharry, Cooper of Coffeen; brother-in-law, Bill (Peggy) Cooper, Jr. of Coffeen; and numerous, nieces, nephews, aunts, uncles, and cousins.

Ralph worked as a machine operator at Eaton B-Line Manufacturing in Highland since 1980.

Memorial Service will be Friday, October 12, 2018 at 11:00 a.m. at Moss Funeral Home in Trenton with Rev. Mark Smith officiating.

Visitation will be Friday, October 12, 2018 from 9:00-11:00 a.m. at Moss Funeral Home in Trenton.

In lieu of flowers, plants, and other gifts, memorials may be made to his grandchildren's education fund (checks may be made to Terri Drees) and will be received at the funeral home.