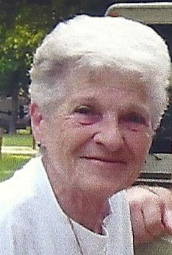 Reva McGeorge
Full Obituary

Reva McGeorge, 80, of Breese, died Friday, December 28, 2012 at Breese Nursing Home.

Ms. McGeorge was born September 3, 1932 in Gilford, MO to Quincy and Mattie (Guist) McGeorge; they preceded her in death.

Surviving are her children, Candis (Jerry) Keithly of California, Dixie (Dan) Glaub of Breese, Rocky (Paula) McGeorge of St. Joseph, MO, Sherry Ruskin of Columbus, OH, and Carl McGeorge of Sacramento, CA; 11 grandchildren; and sisters, Charlotte (Bud) Lucas of Carbondale, KS and Shirley Palmer of Des Moines, IA.

Reva was a homemaker.

Services will be held at a later date.

Memorials can be made to the American Lung Association and will be received through Moss Funeral Home in Breese who is in charge of the arrangements.