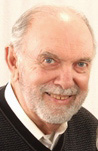 Richard F. Ritzheimer
Visitation Dates and Times

Saturday January 26, 2013
10:00 am to 12:00 pm

Visitation Location

St. Mary Catholic Church, Trenton
Service Date

Saturday January 26, 2013

Service Time

Service Location

St. Mary Catholic Church, Trenton
Full Obituary

Richard F. Ritzheimer, 81 of Trenton, died Tuesday, January 22, 2013 at Memorial Hospital in Belleville.

He was born August 14, 1931 in Trenton, son of Oscar "Shiny" and Clara Ritzheimer, nee Haas, and they preceded him in death.

He married Joanne Marie Olpp on February 11, 1956 at St. Thomas Aquinas Church in Columbus, Ohio and she preceded him in death on September 10, 2011.

Other precedents include a brother Raymond Ritzheimer and sister-in-law Doris Ritzheimer.

Surviving are his two sons, Tom (Pat) Ritzheimer of Trenton and Dan (Ann) Ritzheimer of Edwardsville.

Also surviving are four grandchildren Jim, Paul, Nicole and Natalie Ritzheimer.

Rich is survived by a sister Emma Lou (Loren) Holzinger of Highland, and brothers Roger (Katie) Ritzheimer of Breese, Ralph (Bonnie) Ritzheimer of Breese and Russ (Sis) Ritzheimer of Trenton.

Mr. Ritzheimer was a high school history teacher, coach, athletic director and principal at Wesclin High School from September of 1956 until June of 1973. He then was the principal and superintendent at St. Rose Grade School from July of 1973 until July of 1988. He retired with over 32 years of educational service to students in Clinton County.

Rich graduated from Quincy College in 1953 on baseball and basketball scholarships and is a member of the Quincy College Athletic Hall of Fame. He obtained his Masters Degree in education and administration in 1959 from Western Illinois University.

He joined the United States Army in 1953 after graduating from Quincy College and was stationed in Columbus, Ohio at the 63rd Engineers Army Depot. While stationed there he met his future wife.

Mr. Ritzheimer was signed by the Brooklyn Dodgers baseball team in 1953 after college and played two years in their minor league system before and after his military service. In 1953 he played in Mt. Vernon, IL and in 1956 he played in Hornell, NY and Kokomo, IN.

He was a member of St. Mary Catholic Church in Trenton and served as a lay presider of prayer. He was a member of Stahl Post 778 American Legion in Trenton. Honorary life member of St. Joseph Hospital Auxiliary in Breese.

He was instrumental in the founding of the Trenton American Legion baseball team and served as the team's first manager in 1977. He served on the team's baseball committee until the time of his death. Rich was inducted into the Clinton County League baseball Hall of Fame in 2005 and served as a member of the nomination committee until his death.

A Mass of Christian Burial will be celebrated on Saturday, January 26th at 12 PM at St. Mary Catholic Church in Trenton. Visitation will be from 10 – 12 AM at the church preceding the mass. Per his wishes, his body has been donated to St. Louis University Medical School so he can continue to further educate students, even in death.

Memorials may be made to St. Mary Church or Trenton American Legion Baseball and will be received at the church or through Moss Funeral Home in Trenton.