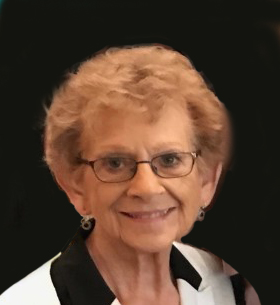 Rita B. Liening
Visitation Dates and Times

Tuesday, August 25, 2020  4:00-7:00 p.m.

Wednesday, August 26, 2020  8:30-9:30 a.m.

(Masks are required at both visitation and funeral mass)

Visitation Location

Moss Funeral Home, Breese
Service Date

Wednesday, August 26, 2020

Service Time

10:00 a.m.

Service Location

St. Dominic Catholic Church, Breese
Full Obituary

Rita B. Liening, nee Kniepmann, age 82, of Breese, passed away Sunday, August 23, 2020 at Cedarhurst of Breese.

She was born September 19, 1937 in Trenton, a daughter of the late Edward and Philomena, nee Huelsmann, Kniepmann.

In addition to her parents, she was preceded in death by her husband Edgar Liening, whom she married October 29, 1957 at St. Mary's Catholic Church in Trenton and who died January 16, 2006; siblings, Mary Hammer, Edward Kniepmann, Joseph Kniepmann, Anna Litteken, and Rose Sudholt; and brothers-in-law and sisters-in-law, Alfred Hammer, Bea Kniepmann, Norine Kniepmann, Theresa Kniepmann, Orville Litteken, Marvin "Bud" Sudholt, Clinton "Mick" Bellm, Owen Brendel, Francis Lechner, Elvera and Ed Huene, Anna and Robert Deiters, John Liening, and Othmar Liening.

Surviving are her children, Daniel (Cindi) Liening of Breese, JoJean (fiancé Carl Valentino) Gonzalez of Los Angeles, CA, and Jeff (Stacie) Liening of Frisco, TX; grandchildren, Candace (Matt) Detmer, Courtney (Evan) Taylor, Travis (fiancée Jessica Manning) Liening, Alexandra and Hayley Gonzalez, Mackenzie and Parker Liening; great-grandchildren, Blake and Haylee Detmer, and Adelyn Taylor; siblings, Marcella Brendel, Martha Bellm, Bernadette Lechner, and Jane (Stan) Niebur; sisters-in-law, Pat Kniepmann and Betty Liening; and nieces and nephews.

Rita retired from St. Joseph's Hospital in Breese after 29 years in food service and formerly worked in the cafeteria at All Saints Academy in Breese. She was a member of St. Dominic Catholic Church in Breese. Rita enjoyed butterflies, working in her yard, traveling, arts and crafts, sewing, baking, cooking, and most of all spending time with her grandchildren and great-grandchildren.

Funeral Mass of Christian Burial will be Wednesday, August 26, 2020 at 10:00 a.m. at St. Dominic Catholic Church in Breese with Fr. Patrick Peter presiding. Interment will follow in St. Dominic/St. Augustine Cemetery, Breese.

Visitation will be Tuesday, August 25, 2020 from 4:00-7:00 p.m. and again on Wednesday, August 26, 2020 from 8:30-9:30 a.m. at Moss Funeral Home in Breese. (Masks are required at both the visitation and funeral mass)

Memorials may be made to Residential Hospice or the Cedarhurst of Breese Activity/Entertainment fund and will be received at the funeral home.