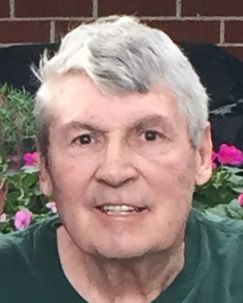 Robert E. "Bob" Vaughan
Visitation Dates and Times

Saturday, May 19, 2018 2:00-4:00 p.m.

Visitation Location

Moss Funeral Home, Trenton
Service Date

Saturday, May 19, 2018

Service Time

4:00 p.m.

Service Location

Moss Funeral Home, Trenton
Full Obituary

Robert E. "Bob" Vaughan, age 67, of Trenton, died Friday, May 11, 2018 at his home.

Mr. Vaughan was born July 9, 1950 in Highland, a son of the late Alvah Elmo and Loretta, nee Beckemeyer, Vaughan.

In addition to his parents, he was preceded in death by a brother, James "Jim" Vaughan.

Surviving are his wife, Debra, nee Taylor, Vaughan of Trenton, whom he married January 12, 1986 in Summerset, KY; children, William Vaughan of Boston, MA, David (Maura) Vaughan of Oak Lawn, and Anne Vaughan of Trenton; sister, Kathy (David) Vaughan-Durham of Summerset, KY; niece and nephew, Rebecca Anne and Matthew Durham; and great-niece and great-nephew, Jolene and Boone Durham.

Bob graduated from Mater Dei Catholic High School, received his Undergraduate Degree in History from St. Louis University, and later earned his Master's Degree in History from the University of Illinois. Mr. Vaughan was self-employed at Vaughan's Ornamental Concrete in Trenton.

He was a member of St. Mary's Catholic Church in Trenton, became an Eagle Scout as a young man, and was a former Boy Scout Leader. Bob enjoyed St. Louis Cardinals baseball, history and politics, but most of all being outdoors gardening, hiking and backpacking (his favorite place was Glacier National Park).

A memorial service will be Saturday, May 19, 2018 at 4:00 p.m. at Moss Funeral Home in Trenton. Visitation will be Saturday, May 19, 2018 from 2:00-4:00 p.m. at Moss Funeral Home in Trenton.

In lieu of flowers and gifts, memorials may be made to HSHS Hospice Everlasting Memory, Multiple Syndrome Atrophy Research Fund, or to the Sierra Club and will be received at the funeral home.