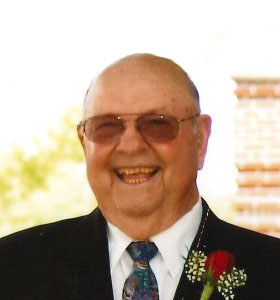 Stanley W. Goestenkors
Visitation Dates and Times

Friday, April 5, 2019  4:00-8:00 p.m.

Saturday, April 6, 2019  8:00-9:30 a.m.

Visitation Location

Moss Funeral Home, Breese
Service Date

Saturday, April 6, 2019

Service Time

10:00 a.m.

Service Location

St. Rose Catholic Church, St. Rose
Full Obituary

Stanley W. Goestenkors, age 87, of St. Rose, passed away Tuesday, April 2, 2019 at Breese Nursing Home.

He was born June 7, 1931 in St. Rose, a son of the late Frank and Pauline, nee Strieker, Goestenkors.

In addition to his parents, he was preceded in death by a son, Carl Goestenkors; a daughter, Diane Goestenkors; siblings, Francis "Dick" Goestenkors and wife Della, Richard Goestenkors, and Robert "Bob" Goestenkors; father-in-law and mother-in-law, Joseph and Elizabeth, nee Tebbe, Fischer; and brothers-in-law and sisters-in-law, Anthony "Buck" Lohmann, Elmer Netemeyer, Dolores "Dot" Goestenkors, Clarence Schumacher, Paul Fiedler, Sr. Bertha Fischer, ASC, Donna Fischer, Charles Fischer, and John Fischer.

Surviving are his wife Mary, nee Fischer, Goestenkors of St. Rose, whom he married April 8, 1953 at St. Rose Catholic Church; children, Susie (Paul) Wessel of Pierron, Rosie (special friend Al Kattenbraker) Hollenkamp of Corydon, IN, Thomas (Doris) Goestenkors of Aviston, and Patti (Cleo) Schrage of Breese; grandchildren, Gwen Markus, Sara (Shawn) Meekes, Dawn (Larry) Smith, Keith (Courtney) Hollenkamp, Alicia (Scott) Schulte, Phillip (Becky) Goestenkors, Nickie (Jordan) Pontious, Danita Goestenkors, Nathan (Jamie) Haselhorst, and Chelsey Glenn; twenty great-grandchildren; one great-great-granddaughter; siblings, Florence Lohman of Aviston, Jane Netemeyer of Aviston, Charles "Chuck" (friend Arlene Korte) Goestenkors of Damiansville, and John "Jack" (Carol) Goestenkors of White Lake, MI; sisters-in-law and brothers-in-law, Evelyn Goestenkors of Carlyle, Maureen Goestenkors of Aviston, Lidwina Schumacher of St. Rose, Joseph (Mary Lou) Fischer of St, Rose, Helen Fiedler of Belleville, Geraldine (Jairo) Mejia of Carmel Valley, CA, Agnes (Dave) Rasure of Belleville, Robert Fischer of Highland, Irma (John) Gapter of Santa Maria, CA, and Angela (Don) Karban of Hillsboro; and numerous nieces and nephews.

Stanley was a lifelong farmer and a member of St. Rose Catholic Church, Men's Sodality and former picnic chairman, St. Rose Development Club, Clinton County Farm Bureau, and Prairie Farms Dairy. He enjoyed playing softball in his younger years and later watching softball, playing euchre, and was an avid St. Louis Cardinals fan.

Funeral Mass of Christian Burial will be Saturday, April 6, 2019 at 10:00 a.m. at St. Rose Catholic Church with Fr. Edward Schaefer presiding. Interment will follow in St. Rose Cemetery.

Visitation will be Friday, April 5, 2019 from 4:00-8:00 p.m. and again on Saturday, April 6, 2019 from 8:00-9:30 a.m. at Moss Funeral Home in Breese.

Memorials may be made to St. Rose Catholic Church or Residential Hospice and will be received at the funeral home.