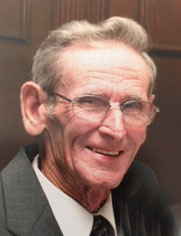 Thomas T. Richter
Visitation Dates and Times

Tuesday, July 5, 4:00 to 8:00 p.m.
~ Prayer services 4:00 p.m.~
~ American Legion Services 7:00 p.m.~
Wednesday, July 6, 8:00 to 9:30 a.m.

Visitation Location

Moss Funeral Home, Breese
Service Date

Wednesday, July 6, 2016

Service Time

10:00 a.m.

Service Location

St. Francis Catholic church, Aviston
Full Obituary

Thomas T. Richter, 81, a lifelong resident of Aviston Il, was called home to God on Thursday, June 30, 2016, after a year-long battle with squamous cell cancer. He was born on October 24, 1934 in Aviston Illinois, the youngest son of Henry and Cecelia (nee Huene) Richter. He attended Aviston Grade School and High School, Graduating from high school in 1953. He served in the U.S. Army from 1954-1956 in Germany. He married Margaret Klostermann on September 24, 1957 at St. Rose Catholic Church, St. Rose IL and she survives in Aviston.

In addition to his wife, Mr. Richter is survived by his 9 children, 6 daughters and 3 sons, Karen Richter and husband Tom of Breese, Mary Jo "Jody" Varel and husband Leon of Bartelso, Gary Richter and wife Carol of Highland, Maureen "Reen" Isaak and special friend Joe Toenyes of Breese, Deanne Remmert and special friend Mark Childerson of St. Rose, Tricia Weis and husband Dave of Aviston, Jill Helmkamp and husband Brent of Breese, Brad Richter and wife Jami of Aviston, and Craig Richter and wife Stephanie of Breese; 27 grandchildren, Melissa (John) Becker, Lauren (Dustin) Melton, Philip Varel, Luke Varel, Sara (Jim) Smith, Adam Richter, Aften Richter, Annalyse Richter, Colby Isaak, Megan Isaak, Brittany Isaak, Blake Remmert, Brooke Remmert, Brady Weis, Mikaela Weis, Myah Helmkamp, Danica Helmkamp, Lydia Helmkamp, Mallory Richter, Jake Richter, Cecelia Richter, Maci Richter, Kendal Richter, Kadence Richter, and Mabree Richter, and 7 great grandchildren. Also surviving are his brothers and sisters-in-law, Stanley "Butch" (Pauline) Richter, Don (Ruth) Richter, and Jim (Dolores) Richter, two sisters, Joanne (Jerome) Rehkemper, and Dolores "Babe" (John) Cotton; and lifelong friend, "other brother" --Pete Trame. Sister-in-Laws and Brothers-in-Laws Betty Richter, Cletus Koerkenmeier, Vince Klostermann, Leann Klostermann, Joe and Becky Klostermann, Edie and Karl Gerhard, and Helen Klostermann. He was preceded in death by his parents, brother, Cornelius "Dick" Richter, father-in-law and mother-in-law Joseph and Frances (Heimann) Klostermann, brother-in-law Clarence Schrage, Burnell Weinheimer, Robert Klostermann, Tom Burk, Sisters-in-laws Mary Richter, Catherine Koerkenmeier, and Dolores "Tudy" Weinheimer.

Mr. Richter was a dairy and grain farmer, and had a passion for agriculture. In his youth, he was active in FFA and 4-H, and developed a love for showing cattle. He showed at numerous fairs including the Illinois State Fair and Illinois State Black and White Show for many years He was very proud to have the first bred and owned registered Holstein cow in Clinton County to be classified as "Excellent", Home Crest Dixie Marie. He helped organize the A-B 4-H club in the Aviston and Breese area in the late '60's, after no agriculture 4-H club had been in the area for some time. He served as co-leader with his brother-in-law Clarence Schrage for several years. Tom was also a member of the Clinton County Holstein Club, the Illinois Holstein Club, and assisted at the Clinton County Classic Sales. In later years, he enjoyed gardening and showed grain and garden produce at the local county fairs.

He was a member of the St. Francis Catholic Church and choir, Aviston, American Legion Post 1239 Aviston, Clinton County Farm Bureau. He was a regular bowler at Hank's Bowl in Trenton for many years.
Funeral Mass of Christian burial will be Wednesday July 6, 2016 at 10:00 a.m.at St. Francis Catholic Church, Aviston, Fr. Daniel Friedman presiding. Interment with full military honors will be at St. Francis Cemetery, Aviston
Visitation will be held on Tuesday July 5 from 4:00 to 8:00 PM and Wednesday July 6, from 8:00 to 9:30 am at Moss Funeral Home in Breese
Members of the Aviston American legion will hold services at 7:00 PM on Tuesday July 5 at the funeral home.
Family request memorials may be made to the St. Francis Catholic Church, Clinton County Ag in the Classroom Program, Mater Dei High School, or the donor's choice, in place of flowers and other gifts of sympathy.
Per Mr. Richter's final wish Please Do Not Vote for Hillary.