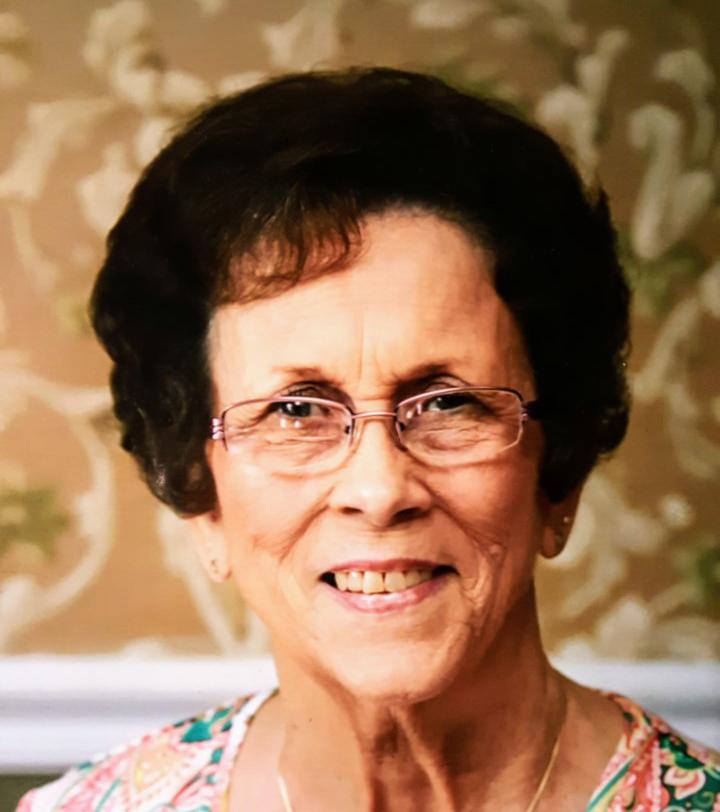 Vada Faye Webber
Visitation Dates and Times

Saturday, September 7, 2019  10:00-12:00 p.m.

Visitation Location

St. John's United Church of Christ, Trenton
Service Date

Saturday, September 7, 2019

Service Time

12:00 p.m.

Service Location

St. John's United Church of Christ, Trenton
Full Obituary

Vada Faye, nee Mitchell, Webber, age 81, a resident of Breese Nursing Home, and formerly of Trenton and McLeansboro, was received into the arms of the Lord on Tuesday, August 27, 2019.

She was born August 10, 1938 in Dale, IL, a daughter of the late Mark and Nellie, nee Ruphard, Mitchell.

In addition to her parents, she was preceded by siblings, Jerry Mitchell in infancy, Elizabeth Short and her husband Ray, Dena Craddock and her husband Bill, Ikey Mitchell and his wife Barbara, John Mitchell and his wife Clara Lou, and Everett Mitchell and his wife Glenda; and a brother-in-law, Clarence Kaufman.

Surviving are her daughter, Kimberly Tyler (Ron) Tremmel of Trenton; grandsons, Zachary and Logan Miller both of Edwardsville; former husband, James D. "JD" Tyler of McLeansboro; siblings, Ottilee Kaufman of McLeansboro and Ruth Jane Holcomb of Eldorado; several nieces, nephews, great-nieces, and great-nephews that she enjoyed watching grow up; and her friend Pehg Zeller of Trenton who visited Vada while living at Breese Nursing Home the last four years.  Pehg brought great joy and lots of laughs to her life and Vada's family is extra grateful for the time Pehg devoted to Vada until the very end of her life

After graduating high school in 1956, Vada began her working career with Dr. Vickers in McLeansboro. She married J.D. Tyler June 6, 1959, and continued her working experience until 1968 with Deitz Well Service.  In 1969 she went to work for J.W. Reynolds Monument Company until 1981. She took a year off to attend Southeastern Illinois College in Harrisburg, IL to receive her LPN Degree.  She was very happy that her niece, Dixie Kaufman Norris attended with her - they took great pride in receiving their Degree's together in 1972.  She worked as a nurse at Hamilton Memorial Nursing Home and Hospital. In 1998 Vada moved to Trenton to be closer to her family and worked for Jim's Men and Boys, but returned to McLeansboro after a year to help care for her mother.  In 1986-1993 she was a Dispatcher for the McLeansboro Police Department.  She then received her Teacher's Aide Certification and worked for P.E. Cross, Regional Superintendent of Schools in 1994. Vada ended her career working in 1997 at Jeffersonian Care Center in Mt. Vernon, IL as a Medical Records/Ward Clerk.

Vada's pride and joy through the years were her family, especially her grandsons.  She was extremely proud of them and lit up with a big smile when they walked in the room. Her hobbies included embroidery and applique, and attending dances with local bands in Southern Illinois.

Memorial Service will be Saturday, September 7, 2019 at 12:00 p.m. at St. John's United Church of Christ in Trenton with Rev. Christy Eckert officiating.

Visitation will be Saturday, September 7, 2019 from 10:00 a.m.-12:00 p.m. at St. John's United Church of Christ in Trenton.

In lieu of flowers, plants, and other gifts, memorials may be made to the Snack Pack Program of Clinton County and will be received at the church or through Moss Funeral Home, 105 S. Main St., Trenton, IL 62293 who is serving the family.