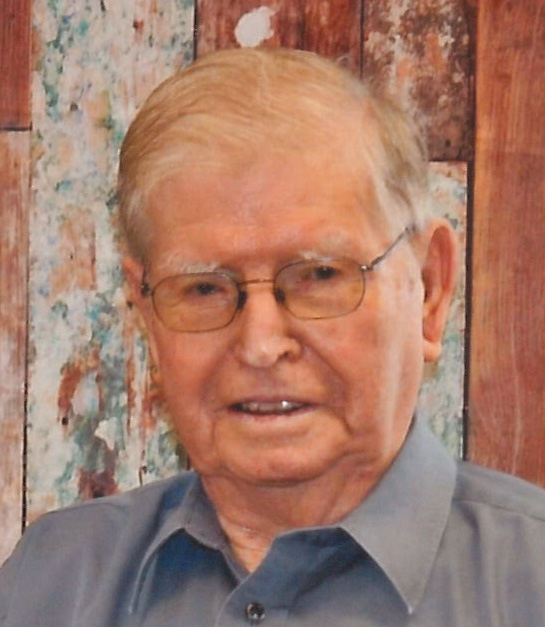 Valerian J. "Larry" Gebke
Visitation Dates and Times

Friday, November 3, 2017  4:00-8:00 p.m.

Saturday, November 4, 2017  8:00-9:30

Visitation Location

Moss Funeral Home, Germantown
Service Date

Saturday, November 4, 2017

Service Time

10:00 a.m.

Service Location

St. Boniface Catholic Church, Germantown
Full Obituary

Valerian J. "Larry" Gebke, age 94, of Germantown, died Wednesday, November 1, 2017 at Aviston Countryside Manor.

Mr. Gebke was born December 1, 1922 in Bartelso, a son of the late Bernard and Elizabeth, nee Becker, Gebke.

In addition to his parents, he was preceded in death by his wife Bernice, nee Beckmann, Gebke whom he married May 7, 1947 at St. Boniface Catholic Church in Germantown and she died April 16, 2017; a son, Mike Gebke; a granddaughter, Sharon Bergmann; siblings, Cornelius Gebke, Norbert Gebke, Bernard J. "Junior" Gebke, Thomas Gebke, Betty Eversgerd, Pat Haake, and Dolores Kohnen; father-in-law and mother-in-law, Alphonse and Christine, nee Wobbe, Beckmann; and sisters-in-law and brothers-in-law, Helen Gebke, Clare Gebke, Rita Gebke, Alphonse Eversgerd, Joe Haake, Greg Eversgerd, Arnie Michels, Stan Goewert, Tony Benhoff, Paul Jansen, Paul and Sally Becker, and four brothers-in-law in infancy.

He is survived by his children, Gerry (Penni) Gebke of Springfield, Kathy (Pete) Bergmann of Bartelso, Ernie Gebke of Breese, and Marilyn (Dave) Spihlmann of Albers; daughter-in-law, Diane "Fuzzy" Gebke of Germantown; 11 grandchildren, Tammy Santarelli, Tara (Sean) Fredericks, Jason (Kristy) Bergmann, Rochelle (Terry) Biggs, Rick (Danielle) Bergmann, Major Clinton (Meghan) Gebke, David (Lelette) Spihlmann Jr., Tim (Sara) Spihlmann, Kurt Spihlmann, Jeremy (Nicole) Gebke, Cory (Nicole) Gebke; 24 great-grandchildren and 1 great-great-grandson; siblings, Cleo Eversgerd of Trenton, Sis Michels of Germantown, Rosemary Goewert of Shiloh, Aggie Benhoff of Breese, Margie Jansen of Bartelso, and Blanche (Robert) Kohrmann of Bartelso; and a brother-in-law, Ted Kohnen of Germantown.

Larry retired as a dairy/poultry farmer and was the Road Commissioner for Germantown Twp. for 10 years. He was a member of St. Boniface Catholic Church in Germantown, Bartelso Knights of Columbus Council 4745, and the Clinton County Farm Bureau. He enjoyed playing cards, dancing, and watching Major League Baseball and the NFL.

Funeral Mass of Christian Burial will be Saturday, November 4, 2017 at 10:00 a.m. at St. Boniface Catholic Church in Germantown with Fr. George Mauck presiding. Interment will follow in St. Boniface Cemetery, Germantown.

Visitation will be Friday, November 3, 2017 from 4:00-8:00 p.m. and again on Saturday, November 4, 2017 from 8:00-9:30 a.m. at Moss Funeral Home in Germantown.

Memorials may be made to St. Boniface Cemetery and will be received at the funeral home.