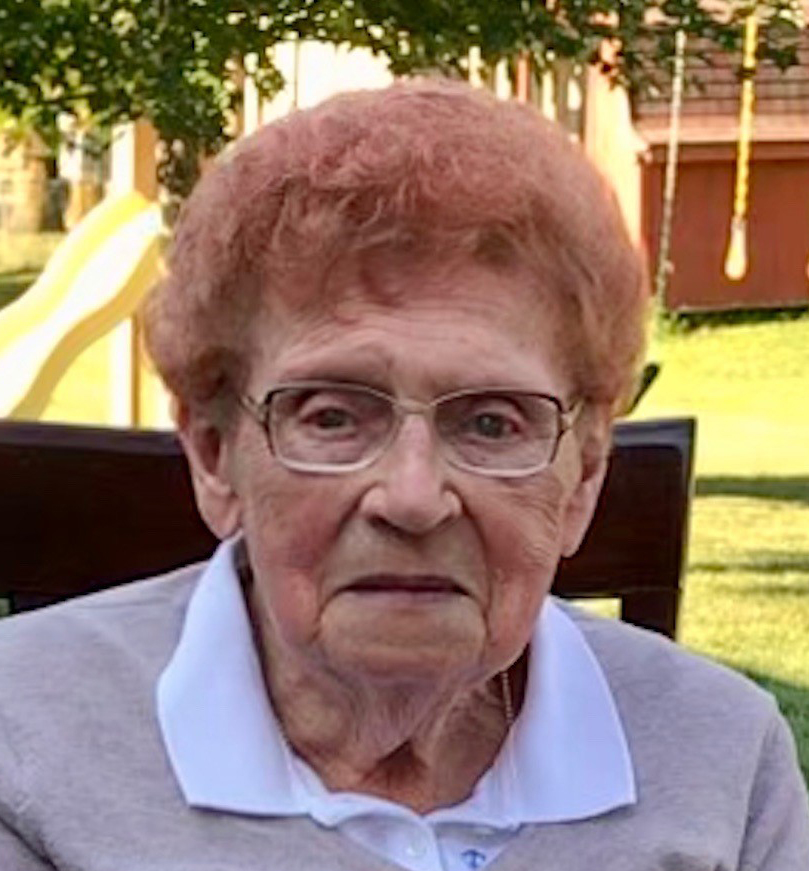 Vernell T. Rolfingsmeyer
Visitation Dates and Times

Monday, December 2, 2019  4:00-8:00 p.m.

Tuesday, December 3, 2019  9:00-10:30 a.m.

Visitation Location

Moss Funeral Home, Breese
Service Date

Tuesday, December 3, 2019

Service Time

11:00 a.m.

Service Location

St. Augustine Catholic Church, Breese
Full Obituary

Vernell T. Rolfingsmeyer, age 93, of Breese, passed away Saturday, November 30, 2019 at HSHS St. Joseph's Hospital in Breese.

She was born July 3, 1926 in Breese, a daughter of the late Paul and Rose, nee Von Alst, Reilmann.

In addition to her parents, she was preceded in death by her husband Wilbert "Cackles" Rolfingsmeyer, whom she married May 6, 1947 at St. Augustine Catholic Church in Breese and who died May 19, 2006; father-in-law and mother-in-law, August and Antoinette, nee Sommers, Rolfingsmeyer; and brothers-in-law and sisters-in-law, Dolores and Vincent "Its" Wieter, Eugene and Lorene Rolfingsmeyer, June and Joseph Peppenhorst, Lavern and Mary Ann Rolfingsmeyer, Delbert Rolfingsmeyer, Kenneth Rolfingsmeyer, and Rita Walter.

Surviving are her daughters, Connie (Marvin) Potthast of St. Rose, Nancy (Jerry) Lappe of Breese, and Linda (Herb) Tebbe of Highland; seven grandchildren, Kelly (Brian) Timmons, Chrisa (Brad) Leezer, Carrie (Tyler) Kramer, Kimberly (Nick) Rahar, Aaron (friend Julie Huelsmann) Lappe, Megan (Michael) Junker, and Jared Tebbe; ten great-grandchildren, Abbigail and Gavin Leezer, Wade, Briggs, and Harlin Roy Kramer, Riddick and Rowan Rahar, Mikaela, Mabrie, and Madden Junker and was highly anticipating the birth of her eleventh great-grandchild; brother-in-law, Melvin Walter; and numerous nieces and nephews.

Vernell was a homemaker and a member of St. Augustine Catholic Church in Breese.  She enjoyed quilting, stitching, and most of all spending time with her grandchildren and great-grandchildren.

Funeral Mass of Christian Burial will be Tuesday, December 3, 2019 at 11:00 a.m. at St. Augustine Catholic Church in Breese with Fr. Chuck Tuttle presiding.  Interment will follow in St. Dominic/St. Augustine Cemetery, Breese.

Visitation will be Monday, December 2, 2019 from 4:00-8:00 p.m. and again on Tuesday, December 3, 2019 from 9:00-10:30 a.m. at Moss Funeral Home in Breese.

Memorials may be made to St. Augustine Catholic Church or to the donor's choice and will be received at the funeral home.