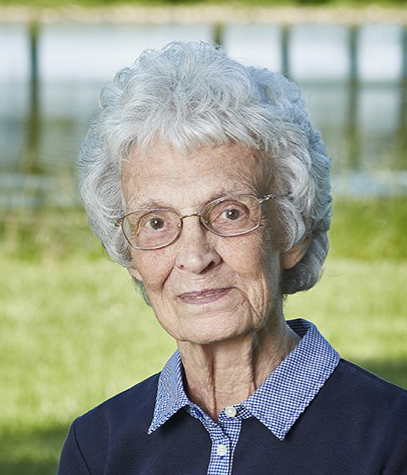 Virginia A. "Gin" Beckmann
Visitation Dates and Times

Monday, May 10, 2021 8:30-10:30 a.m.

Visitation Location

St. Mary's Catholic Church, Carlyle
Service Date

Service Time

Service Location

St. Mary's Catholic Church, Carlyle
Full Obituary

Virginia A. "Gin" Beckmann, age 91, of Beckemeyer, passed away Wednesday, May 5, 2021 at HSHS St. John's Hospital in Springfield.

She was born May 14, 1929 in Bartelso, a daughter of the late Joseph and Alvina, nee Foppe, Becker.  Gin married Paul "Pete" Beckmann on August 24, 1954 at St. Anthony's Catholic Church in Beckemeyer and he preceded her in death on July 18, 1982.

In addition to her parents and husband, she was preceded in death by her father-in-law and mother-in-law, Fred and Elizabeth, nee Wessel, Beckmann; and brothers-in-law and sisters-in-law, Edwin "Butch" Gebke, Elva Becker, Mary (Joe) Mueller, Matt Diekemper, Leona Beckmann, Alois (Margie) Beckmann, Louis Heidenrich, Dominic Beckmann, Joe Brueggemann, and Jerry Beckmann.

Virginia is survived by her children, Cindy (Dave) Rolfingsmeier, Rick (Sheila) Beckmann, Jim (Marla) Beckmann, Kurt Beckmann all of Carlyle, Scott (Maggi) Beckmann of Wasilla, AK, Keith (Theresa) Beckmann of Beckemeyer, Todd Beckmann of Bartelso, and Dawn (Mark) Tebbe of Breese; grandchildren, Jill (Brian) Sundberg, Kelly (Robert) Macias, Britni (Zach) Hogg, Ryan (Karena) Beckmann, Reed (Janna) Beckmann, Neal (Carrie) Beckmann, Audrey (Chad) Wiegmann, Breanna (friend Charlie Flauter) Beckmann, Melanie Beckmann, Luana (Jon) Freeman, Cindy (Greg) Strohmeyer, Scott M. (friend Martha Brookbank) Beckmann, Casey (Brandon) Baker, Zachary (friend Hanna Bledsoe) Tebbe, and MacKenzie Tebbe; great-grandmother of Spencer, Emmet, and Tucker Sundberg, Roberto, and Estela Macias, Natylie, Gabriel, Elyza, and Sebastian Hogg, Breden and Brody Beckmann, Ian and Emersyn Beckmann, Calvin Beckmann, Dominic, Xander, and Riddick Freeman, Carter, Andy, and Riley Strohmeyer and two more great-grandchildren on the way; siblings, Ruth Gebke of Bartelso, Lavern Becker of Missouri, and Andy Becker of Centralia; sisters-in-law and brothers-in-law, Johanna Diekemper of Carlyle, Leo Beckmann of Carlyle, Helen Heidenrich of St. Louis, Bernette Beckmann of Bartelso, Blanche Brueggemann of Bartelso, Alfred (Helen) Beckmann of Carlyle, and Marilyn Beckmann of Highland; and numerous nieces and nephews.

Gin retired from Basler Electric in Highland and was a member of St. Anthony's Catholic Church in Beckemeyer.  She was happiest when she was spending time with her family, especially her grandchildren and great-grandchildren.

Funeral Mass of Christian Burial will be Monday, May 10, 2021 at 11:00 a.m. at St. Mary's Catholic Church in Carlyle with Fr. George Mauck presiding.  Interment will follow in St. Anthony's Cemetery, Beckemeyer.

Visitation will be Monday, May 10, 2021 from 8:30 to 10:30 a.m. at St. Mary's Catholic Church in Carlyle.

(Mass will be limited to 150 people and masks are required for the visitation and funeral mass)

In lieu of flowers, plants, and other gifts, memorials may be made to NubAbility for those with limb disabilities (www.nubability.org) or to the wishes of the family and will be received at the church or my mail to Moss Funeral Home, 535 N. 5th, Breese, IL 62230 who is serving the family.